Attending the International Plowing Match and Rural Expo (IPM) is like a "homecoming"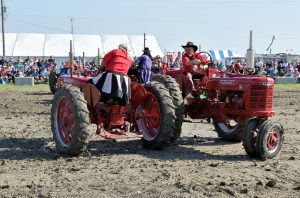 of sorts for many people, especially those staying in the RV Park. It's an opportunity to kick back with old friends and make new ones while enjoying a large assortment of activities, demonstrations, displays, and entertainment.
2018's IPM was no exception.
"We love to get together. The International Plowing Match is the last week of holiday before the trailer is usually put away," says Brenda Dance of Alymer, Ont. "We know so many people in the RV Park, it's like a reunion."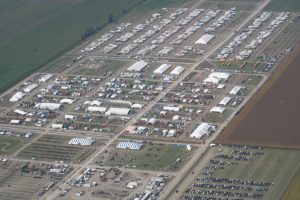 Brenda and her husband, Charlie, are joined by two other couples when they make their way to the IPM, which his held in a different location every year. The IPM is put on by the Ontario Plowmen's Association, in collaboration with a local committee.
2018's five-day event in Chatham-Kent attracted nearly 80,000 people, including those who stayed at approximately 500 RV Park sites. They were treated to a range of activities such as: plowing competitions, live performances, antique and historical attractions, hundreds of exhibitors and a whole lot more on about 1,000 acres of land.
Food Network personality Bob Blumer and his team set a new Guinness World Record – the largest Caesar cocktail which was made using locally grown ingredients.
"It's a tradition. You hate to miss it," says Betty Dale of Belmont, Ont., noting she and husband Lorne have stayed at the IPM RV Park for over ten years. "We travel with two other couples. … A lot of people tend to travel in groups, it's just fun."
A highlight for Betty and Brenda was the RV Park entertainment tent, which offers nightly performances not open to the general public.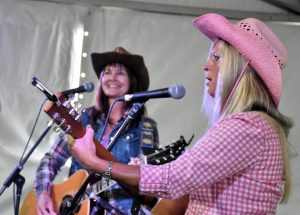 "It's nice to go down and listen to the music," says Dance. "We really enjoyed that this year."
RV Park Chair Neal Craven says the feedback he received was mostly positive. People were particularly pleased with the water pressure and access to a waste-dumping zone that included hook-up to clean black and grey water tanks.
"That worked out really well for people," he says, noting the dedication of volunteers kept things moving well. "They made my job so much easier."
Heavy rain arrived late on Thursday morning. Out of concern for visitors' safety, the IPM was shut down shortly after noon, but that didn't stop the fun for everyone.
"They couldn't do anything about it. You can't control the weather," notes Betty. "We just stayed put and played cards and had a great day."
Though the rain fell fast, it didn't last very long, which allowed crews to start cleanup efforts early. By the next morning, much of the water and mud had been sucked up or scraped away.
This year's IPM RV Park boasts 1,100 sites. Bookings are well underway, as many people register for the upcoming year while enjoying the IPM.
Asked what advice she would give to someone considering staying at the IPM RV Park, Dale suggests they book early and let organizers know their preferences in terms of campsite placement.
"They're so accommodating," she says. "We don't like to be near the entertainment tent. We always travel with our side-by-sides, like a Gator – we all take them up there – so we like to be further back at night."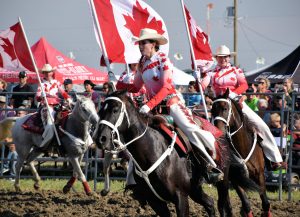 RV Park sites come with two IPM adult admissions for each day of your stay and are situated beside Tented City for easy access to the attractions. There you'll find vendors, historical displays and equipment demonstrations, numerous entertainment stages, a municipal showcase, and tents dedicated to lifestyles, education, the future of farming and more.
Bookings are open for IPM 2019 in Verner (West Nipissing), near North Bay, which runs Sept. 17 to 21. To reserve your site in the RV Park, or for more information, visit www.plowingmatch.org/ipm2019/visitors/rv-park/
By Richard Vivian, OPA Marketing and Communications Co-ordinator